This is the start of a series of posts about "Why I Love Android" and the community around it. No flame or hate against other platforms intended. And if you think I troll, please troll in the comments with me 🙂
Reason why I Love Android from September 8th, 2010
Cloud2Android aka Android Cloud to Device Messaging – send any website, Google Map (including navigation) or a phone number to your Android device and work with it. Need to read on the road? Send a URL. Need to make a call? Don't type in the number, select it and send it to your device. Uses ChromeToPhone.
Remote Notifier – See on your Mac/Linux/Windows computer any notifications. Got an SMS? Let Growl display it on your Mac. Get notified about your current battery state. Display incoming phone calls right on your desktop. This is sooo cool 🙂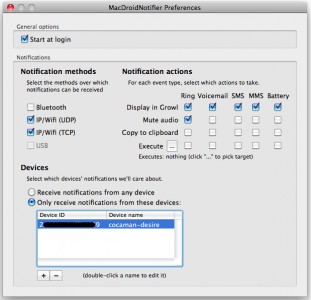 These are the two features for today. Both show what you can do with an open system like Android is. There is data pushing in both directions. And it is easy and everything I showed to you is open source and you can use it in your own applications. Just make sure to take security in your hands 😉