SlideShare is updating its webservers. How I know this? Because I got lucky. There is no notice on the website or on the blog. The homepage loads fine. But if you click any link or want to view a presentation, all you see is a stupid 500 error message.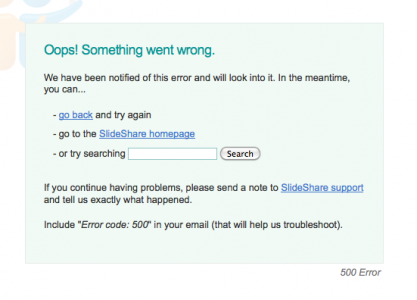 At around 7:21 am CET, the team posted a short notice on Twitter. But not a single word on the website. No news at all. So instead of presentations, all you see is the above message. And if they really are "being noticed" on the error, they are getting quiet e few messages
.
Lesson from this hiccup: Put a down notice on your website and homepage. Don't let your customers search for information, push it to them! And no, Twitter isn't a good way to inform customers.