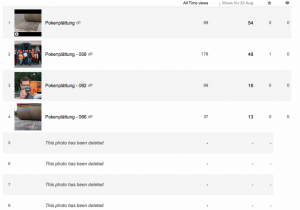 Can you imagine how sad it is, to see your photos being deleted from your Flickr photo stream? This happened a few times to me lately. Why you ask? Well it seems that once a photo is no longer in your iPhoto Library, it will be deleted on Flickr. No matter if you just moved the library from your internal hard drive to a an external drive.
After contacting Flickr the team responded with this mail:
Our records show that these photos were deleted from your computer. If you have deleted photos from Iphoto and you have synced with Flickr, they are deleted from Flickr. Once a photo is deleted it cannot be restored.
The problem seems to be that the iPhoto Flickr uploader has permissions to delete photos. I have no idea if this is a "feature" or a bad design decision. I tend to think it is the second.
So after reading blogs and forums I have decided to de-authorize the uploader to my Flickr account and remove the Flickr albums from my iPhoto. Then I bought Connected Flow's FlickrExport for iPhoto. Not a cheap software but I hope it is worth my money. In contrast to the built-in Flickr uploader, Flickr Export does not have delete rights to my account. Hopefully this will prevent loss of photos.